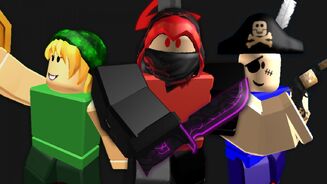 Season 1 is an event which started in late May 2019, and is still ongoing. It offered a new GUI design, several new maps, new weapons, and new pets.
Changes
GUI
Collapsible players list.
Slightly adjusted emotes section.
A completely redesigned Round Ending Screen.
The game now shows a "Victory" sign, different designs for each Role, if the player wins a round.
A "Time's Up!" sign will appear for the sheriff/hero/murderer if the time runs out before they can accomplish their tasks.
A "Victory" text now shows on top of the sheriff/hero/murderer if they win, can be only seen by other players.
Redesigned survival XP counter/countdown.
A "Game Over" text will appear on top of the survival XP counter when time runs out (only appears for innocents).
All murderer eliminations, sheriff wins, and innocent survivals were reset.
Maps
Pets
Added 21 new pets: Cat, Dog, Bunny, Pig, Fox, Bear, Bat.

Each pet has a fire variant and a chroma fire variant.

Pets can only be bought via the Common Egg, which costs 1,000 coins, instead of separate Pet Boxes.

Pet crates and pets that were available for coins were removed and replaced with pet eggs
Weapons
Others