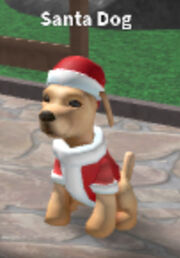 Santa Dog is a common pet that was originally obtainable by purchasing it for 10 Snow Tokens in Santa's Workshop during the Christmas Event 2017. It is now only obtainable through trading as the event has since ended.
Appearance
This pet resembles a beige dog sitting down wearing a santa costume, including a red and white shirt with a santa hat.
Trivia
The pet's model originates from the shoulder accessory made by ROBLOX called Santa Paws Dog.