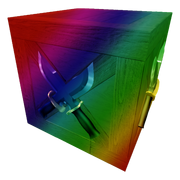 Rainbow Box is a weapon crate that was introduced on August 6, 2016, as a redesign idea for the Chroma Box.[1][2] It can be purchased from the shop for 1,000 coins, 100 diamonds, or a Mystery Key.
Possible Rewards
This list below shows every knife that can be unboxed from the box:
Possible Rewards
Name
Type
Rarity
Chance
Image
Brown
Knife
Common
70%
Orange
Knife
Common
70%
Yellow
Knife
Common
70%
Green
Knife
Common
70%
Pink
Knife
Uncommon
15%
Blue
Knife
Uncommon
15%
Red
Knife
Uncommon
15%
Black
Knife
Rare
10%
Purple
Knife
Rare
10%
Shiny
Knife
Legendary
5%
Heat
Knife
Godly
<1%*
Chroma Heat
Knife
Godly
<1%*
*The chances of obtaining a godly weapon is unknown.
Trivia
The box was originally known as the MLG Box and then the Chroma Box.
This is the only weapon box other than holiday boxes, that is not numbered
The knives inside are all colors (besides Heat & Chroma Heat).
Gallery
References