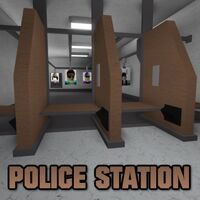 Police Station is one of the Maps in Murder Mystery 2. It is a large map with many hiding spots. The map consists of several rooms including the main entrance/main room, restrooms, a garage downstairs, two offices in the second floor, a interrogation room and a jail with two prison cells. There are many vents in the map, leading to many of the rooms and hallways around the map, so this makes it easy to get away from the murderer.
Hiding Spots
In the restrooms.
In one of the prison cells.
Behind the door in the offices upstairs.
Inside the whiteboard in the large meeting room.
In the garage downstairs.
In the shelves or car.
In the vent leading between the restrooms.
In the vents, where you easy can escape if the murderer is coming.
In the wall behind the stone heads.
On top of the televisions in the offices upstairs.
On top of the shooting range bars
Inside a yellow car that is in the garage.
Gallery