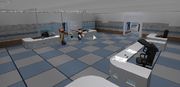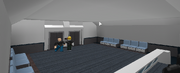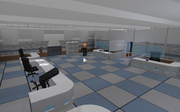 Office 2 is one of the maps in Murder Mystery 2.
It consists of two large rooms, a small recreation area, restrooms, hallways, and a meeting room. It is a small map, with almost no hiding spots and little open space, making it really hard for innocents, but easy for the murderer.
Hiding Spots
Behind the chairs in the large room with the elevators (e/sit is recommended, but it is not a good place to hide).
Behind the chairs in the other large room (e/sit is also recommended, try to hide behind the chairs in the cubicles).
At the recreation area.
In the meeting room.
In the restrooms.