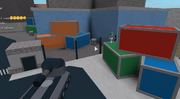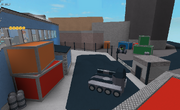 Mil-Base (the short form of Military Base) is a fairly large map with a fair amount of hiding spots. The tube is similar to the one in Bio Lab except it is more clear. The map consists of an outside area, a meeting room, a storage room, a shower room, a room that has lights flickering, and a controlling room.
Hiding Spots
Inside the tube in the room with the giant tube. (First Person/Shift Lock is required to enter)
Behind the boxes in the room with the giant tube.
On top of the giant tube.
On Zyleak's Chair (in the small room next to the giant tube).
Inside the lockers or the showers in the shower room.
Between the giant boxes in the outside area in the map.
Through the vents upstairs/On the platform on the ceiling near the main room.
In the small room with flashing lights.
Under the staircase leading outside.
Gallery