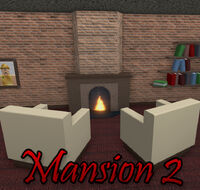 Mansion 2 is a remake of the old Mansion map. It is larger and has more hiding spots for innocents, making it a fairly suitable map for all roles. This map is one of the most favored and most voted ones of all of the maps in Murder Mystery 2 along with Mil-Base, as it has long corridors for the murderer and sheriff to 1v1 in.
Appearance
Mansion 2 consists of hallways leading around the map, with two floors:
1st Floor: A kitchen, a bathroom, a lounge with a fireplace, a meeting room, a garage, and a small storage room.
2nd Floor: A bedroom and a passage leading to the fireplace in the lounge room downstairs.
Hiding Spots
The mansion has a fair variety of places to hide, meaning the murderer needs more time to check around the map for innocents in order to be victorious:
Inside the secret hiding place behind the picture outside the kitchen.
Behind the door in the small storage room.
Behind the cabinets in the garage.
On top of the lights and shelves in the garage.
Behind the cabinet between the garage and the small storage room.
Inside the refrigerator of the kitchen.
Inside the sink in the kitchen. (Note that only 1 person can fit, and to kill the person inside it, you must throw your knife as murder)
Behind the boxes of the kitchen.
Behind the door in the bathroom.
Inside the cabinets in the lounge.
In the small passage between the bedroom and the lounge.
Behind the door of the bedroom.
Behind the closet next to the garage.
Gallery