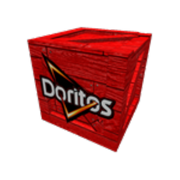 The MLG Box, also known as the Chroma box, was a box released in the early stages of MM2. It could be purchased from the shop for 150 coins. Sometime during his second creation, Nikilis introduced this box. Soon after, he renamed it the "Chroma" box due to copyright reasons and replaced the weapons. Then he changed the box entirely to the Rainbow Box, including the weapons again for an unknown reason. Every one of the knives in the box apart from Heat and Shiny have been deleted due to unknown reasons.
Weapons
The weapons can still be found in old videos that were made in 2015. The weapons were meme related.
Weapons in the MLG Box:

Weapons in the Chroma Box:
Chroma Box Weapons
Name
Type
Rarity
Clay
Knife
Common
OJ
Strawberry
Plum
Envy
Uncommon
Bronze
Lime
Festive
Rare
Scarlet
Shiny
Legendary
Heat
Godly
About
This crate was based on a meme/MLG theme. Some other knives in the crate were based off on popular things in 2015.
Gallery
Trivia
The link for the items in the Chroma box: Link 1.
The link for the items in the MLG box: Link 2.
When it was changed to the Chroma Box, all the logos and most of the details were removed from the knives.
These weapons aren't on the value list since they are unknown and Nikilis might've removed them for personal reasons.
The box was replaced by the Chroma Box to avoid copyright. Then was changed again in 2016 to the Rainbow Box.

Nikilis also made a tweet about it. The tweet can be found here.

All the items from the MLG/Chroma crate that players currently had were mysteriously gone.
Everything in the boxes except for Shiny and Heat no longer exist, which means nobody can possibly have these weapons.
The logo on the crate is a popularly known chips company called ''Doritos''.