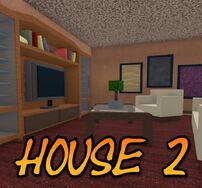 House 2 is a small map with many hiding spots scattered around. It is the second version of House.
The map consists of a living room, a kitchen, a bedroom with a closet, a bathroom, a dining room, a garage, a laundry room/mudroom, a basement with two floors, and a backyard.
It tends to be pretty easy for the innocents because they can keep running loops to avoid the murderer and there are 2 main spots where the players can wall-camp (hide between the walls). These are the living room and the hallway which connects the basement and the bedroom.
There are 14 hiding spots listed below.
Hiding Spots
Inside the TV in the basement.
Behind the shelf in the garage.
Behind the door in the bedroom. (not really a good place to hide)
Behind the boxes inside the closet in the bedroom.
In the shower or bathtub (with the Sit (Emote)).
Behind the trapdoor leading to the basement.
On the door frames or behind the doors.
Behind the boxes in the storage room.
Behind the DJ Booth in the basement (with the sit emote).
Under the dining table. (With the sit emote)
Behind the TV in the Living Room.
At the back of the laundry room, behind the washer/dryer (with the sit emote)
Behind the barbeque outside (with the sit emote)
Trivia
This map, along with its predecessor, was initially controversial as it was similar to a map from a different murder mystery game, The Mad Murderer.
Gallery