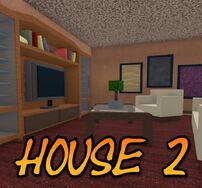 House 2 is one of the maps in Murder Mystery 2. It is a small map, with many hiding spots scattered around. It is the revamped version of House.
The map consists of a living room, a kitchen, a bedroom with a closet, a bathroom, a dining room, a garage, a laundry room/mudroom, a basement with two floors, and a backyard.
There are 12 hiding spots listed below.
Hiding Spots
In the TV in the basement.
Behind the shelf in the garage.
Behind the door in the bedroom.
Behind the bed in the bedroom (with the sit emote).
In the closet in the bedroom.
In the shower or bathtub (with the sit emote).
Behind the Trapdoor leading to the basement.
On the door frames or behind the doors.
Behind the boxes in the storage room.
The DJ Booth in The Basement (with the sit emote).
Glitch: You can go under the table in the Dining Room with /e sit.
Behind the TV in the Living Room.
Somewhere in the room leading to the basement (If your character is somehow all grey)
Trivia
Almost every player runs around the map when they see the murderer, this is make the round easier for the murderer.
The only thing to win the game is to shoot the murderer or get the gun. (If the Sheriff is dead)
Gallery
Community content is available under
CC-BY-SA
unless otherwise noted.