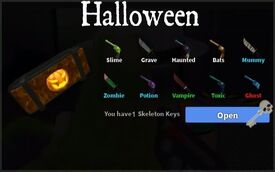 The Halloween Event 2018 is an event that began on October 25, 2018 and ended on November 12, 2018.
Main Event
The Main Event had 100 tiers, and almost every tier had a reward. Each tier cost 100 candies, meaning it cost 9900 candies to finish the full event, with tier 1 being free.
Halloween Box
The 2018 Halloween Box was the box for this event. A Skeleton Key could be used to unbox crates and it was purchasable for 100 candies.
Leaderboard
Every annual event there is a special leaderboard. To get onto this year's leaderboard, players had to collect candies. The only way to obtain such candies was by collecting them during rounds. Each person on the leaderboard obtained a unique knife depending on their rank. First place got Gold Hallow, second earned Silver Hallow, third earned Bronze Hallow, and every other player on the leaderboard earned Red Hallow.
Leaderboard Rewards
Name
Image
Obtain
Owner (Except Red)
Red Hallow
Top 100 on Candies Collected Leaderboard
-
Bronze Hallow
3rd Place on Candies Collected Leaderboard
Never_Again101
Silver Hallow
2nd Place on Candies Collected Leaderboard
Chowinz
Gold Hallow
1st Place on Candies Collected Leaderboard
Else8888
Batwing

Batwing was the gamepass for Halloween 2018 instead of an item pack. Batwing is an ancient tier knife that used to only belong to Nikilis. Batwing had a cost of 2499 Robux.