Maps are the locations in which rounds take place in. They are the places that MM2 takes place in and are one of the most important aspects of MM2. They usually are in buildings and rarely have outside parts. A lot of maps have secret walls or floors or just things that you can hide behind for hiding spots. Before a round can begin, players must vote on which map they wish to be chosen, otherwise, a random map is chosen.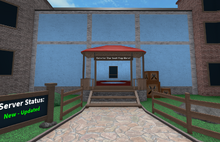 The voting room located in the Lobby Throughout the updates of Murder Mystery 2, new maps are added to the game. However, these maps replace other previous maps. Due to this, some maps are inaccessible and cannot be played in.
There are some other unreleased maps, such as Beach House and Night Club were potential candidates for maps, but never officially released.
Notes & Trivia
Playable maps
Maps in this category are still playable in MM2. Some of these maps are updated versions of their originals (Removed Maps)
Removed maps
Maps in this category were deleted from game by developers.
MM1 Maps
Maps in this category were in the older version of Murder Mystery. They are no longer playable - were removed or replaced with new map.
Trending pages
All items (52)
Community content is available under
CC-BY-SA
unless otherwise noted.