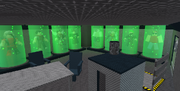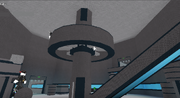 Bio Lab
The Bio Lab is a relatively new map. It is also a very large map, so this makes it a good map for innocents because they can escape the Murderer easily. Mostly, the fight is drawn to the room with a large pillar and some crates.
Hiding Spots
Inside the tube similar to the one in Mil-Base. (First Person/Shift Lock Required)
On top of the giant tube.
Inside the room with the creators of the game in tubes, there is a secret entrance to a small hole. Hoever, it isn't a great hiding place as many people know about it.
Inside the containers in the room with the giant tube and the storage room.
Behind the tube with the creators inside them. (You cannot go behind some of them)
Inside the vents.
Inside the room with the flashing lights.
Gallery